CYNICS announces OEM partnership with HIKVISION
17 Jun 2015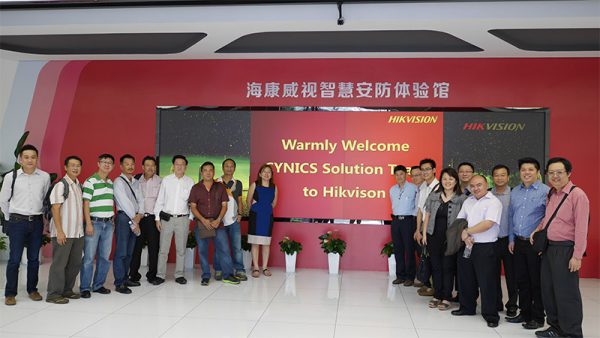 Partnership agreement with Hikvision to enable Cynics to provide better IP video surveillance to clients in Malaysia
Cynics Solution Sdn Bhd, the leading manufacturer and importer of closed-circuit television (CCTV) solutions, announced that it has signed an original equipment manufacturing (OEM) partnership agreement with Hikvision Digital Technology Co Ltd, the world's leading manufacturer of innovative award-winning video surveillance products and solutions, to incorporate a variety of advanced smart CCTV technologies provided by Hikvision into Cynics' current line of CCTV products.
Signing of the partnership agreement took place on May 19. 2015, when Shing Yee Wen, CEO of Cynics Solution Sdn Bhd, led a group of 20 system integrators to visit the headquarters of Hikvision Digital Technology Co Ltd, the world's leading manufacturer of innovative award-winning CCTV products and solutions, located in Hangzhou, China, with the expressed purpose of finalizing the said partnership agreement.
The said CCTV technologies provided by the partnership with Hikvision include People Counting, LPR (Licence Plate Recognition), Heat Mapping, Face Recognition and Smart Retail Solution. These smart CCTV solutions from Hikvision will be incorporated in Cynic's line of network video recorder (NVR) and digital video recorder (DVR) systems, which would be introduced in Cynics' upcoming project designs, and will be made available to Malaysian consultants at affordable prices, thus giving the company unique selling points and a further leading edge over the company's rivals.
"One of the new smart CCTV technologies from Hikvision, like Face Recognition, will enable cameras to detect suspicious persons loitering around banks in the past few days and automatically upload the suspects' headshots, time and location to the central management platform. All the information will be well recorded in the back-end system, the said information will be available for retrieval and enquiry any time, thus making video surveillance more effective than it is currently," elaborated Shing Yee Wen.

CYNICS SOLUTION SDN BHD had been supplying system integrators specializing in internet protocol (IP) video surveillance systems for reputable projects such as the Legoland Hotel, Duke Highway, AEON Bukit Mertajam, IKANO Damansara Perdana, the many branches of UTC all over Malaysia and many more, with the support of Hikvision. Another upcoming project which will require the use of 1000 units of IP cameras, featuring Hikvision's CCTV technologies will soon be installed in Selangor.

HIKVISION DIGITAL TECHNOLOGY CO LTD is the world's largest supplier of video surveillance products and solutions, specializing in development of video surveillance technologies, as well as designing and manufacturing a full-line of innovative CCTV and video surveillance products, ranging from cameras and DVRs to video management software. This is achieved with the world's largest research and development team as well as state-of-art manufacturing facilities at the company's disposal.
---
BOOK YOUR SLOT NOW
For better understanding on how our SMART CCTV Systems work
Register Now for EXCLUSIVE PREVIEW

**LIMITED TO 2 EXCLUSIVE PREVIEW PER DAY (MONDAY TO FRIDAY)**
ENQUIRE NOW