Solar CCTV Camera & Wireless 4G for Estate
Experience cost-effective security surveillance for your farm or estate with our Wireless Bridge and Solar Panel CCTV Technology. Our solutions ensure that your farm is well protected from unwanted intruders.
Harness the power of free sustainable solar energy. Our Solar Wireless CCTV System solutions are also suitable to be deployed in large open areas such as palm oil estate, durian farm, fish farm, bird nest farm and construction site where electricity facilities are normally absent. With 24-hour surveillance, you can ensure the safety of your crops and yield. This solution is not only sustainable,but also cost effective and gives you uninterrupted power.
Why Cynics Solar CCTV for Farm?
Cynics Solution Sdn Bhd is the leading manufacturer, importer and supplier/distributor of CCTV security camera systems based in Malaysia. With many years of experience under our belt, it is safe to say that we know what works and what doesn't. Our farm CCTVs are built to withstand the tropical weather conditions in Malaysia be it sun, wind or rain. In addition, our advanced software also comes with advanced artificial intelligence detection. This allows your farm security system to capture human and vehicle motion with picture perfect clarity.
As most farms are located in areas with low coverage, we also provide a complete solution which includes wide 4G wireless coverage on your farm. This allows you to monitor your area 24 hours with real time connection. No worries about losing your evidence as you may enable cloud recording after installation.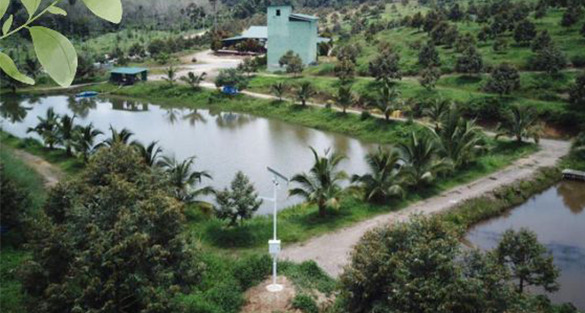 Pengkalan Hulu 50 Acres Durian Orchard
The installation aims to help the owner have a powerful security surveillance system for his rural properties at all times. We divided the monitoring areas and ensure the AI detection is fully functioning at all the sites.

Completed in 2 days without cables installation
Completion Date: September 2021
Total Contract Sum: RM28,000
Installation Set: 12 cameras with AI, human detection functions on 3 poles
Solar Powered WiFi Connectivity & Surveillance System In The Farm Of Cameron Highland
This is a tailored-made solution for the client as we build up the solar powered WiFi network system together with surveillance system to ease the parties communication in the valley as it is a totally signal blocked areas by the hillsides. The outdoor WiFi used to increase 4G coverage within the valley, it is easier to communicate with workers in the farm wherever they are through any messenger.

Completed in 2 days without cables installation
Completion Date: September 2021
Total Contract Sum: RM15,000
Location: Brinchang, Cameron Highland
Installation Set: Solar powered outdoor WiFi and surveillance system